Harvest
Harvest was completed in good time helped by some really good, dry weather towards then end, making it much easier than some years.  Yields were around average, even the oilseed rape which we were concerned about was only just below par.  However, prices are down by about 20% compared to last year due to a good world harvest.
Autumn Cultivations
The oilseed rape was direct drilled in the last fortnight of August and rolled to retain moisture shortly after being drilled.  All the ploughing and cultivating for winter cereals has been completed and drilling has just begun.  All our seed to be drilled is from this year's harvest and has been treated and dressed by a seed processing lorry that comes to the farm.  The sugar beet have had a fungicide spray and harvesting will begin in mid-October.  The old farm workshop next to the road is having some repairs and renovations completed so that it can be used for farm storage. 
Purchases
It is necessary to bring new bloodlines into our flock of Suffolk Sheep from time to time, bizarrely one of the places to go to find the best Suffolk Rams is Kelso in the Scottish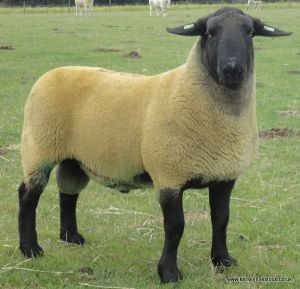 Borders. The sale is a multi-breed sale with over 5000 rams sold over the day through 17 sale rings!  Thought to be the biggest ram sale in Europe.  We purchased two pedigree Suffolk rams, one for £2,200 to be shared with a friend and another for £1,300. Both are in the top 1% of animals in the breed for growth rate and performance.  We try to keep purchases to a minimum due to the risk to of bringing in diseases with new stock.  While up north we also attended a sale of British Blue Cattle and purchased 4 expensive, top quality embryos.  This is a risky, long term project because embryos are not guaranteed to result in a pregnancy with a conception rate of around 65%.  They will be implanted into some of our crossbred cows with the hope of producing one or two top quality, unrelated calves.  We have also purchased a second Merlo telehandler to be used on the arable side of the farm.  We sold a digger and three older tractors to help finance the new machine.